Enterprise Diagnostic Viewing
Unify image visualization across your organization
Connect your image data with the eUnity Viewer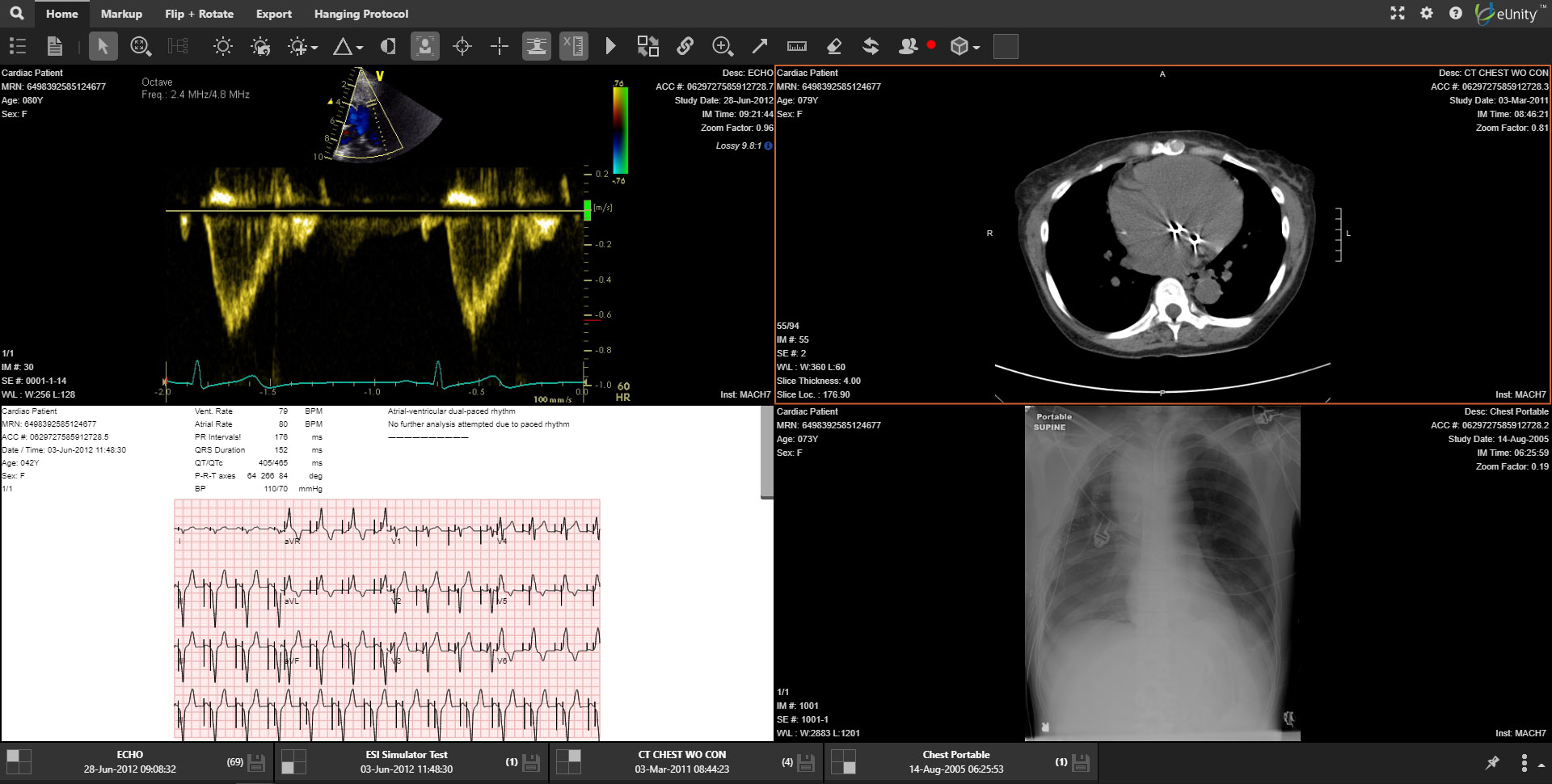 eUnity clinical non-DICOM
eUnity is the market's leading zero-footprint viewing and vendor independent integration platform. It gives clinicians fast, uninterrupted access to diagnostic images from disparate or propriety systems. Its rich feature set meets the image visualization needs of both clinicians and radiologists, without the need for dedicated workstations.
Unify and standardize visualization for clinicians across the enterprise
Deliver complete imaging histories via the EMR, no matter where images are stored
Give radiologists access to diagnostic tools on any browser or device
Reduce technical complexity, resources, and costs
eUnity delivers clinical and technical value
eUnity Enterprise Viewer
Designed for care providers, eUnity transforms the experience of accessing and viewing imaging. Easy. Powerful. Integrated. Clinicians across the enterprise gain unprecedented access to images and multi-media content so they can quickly develop accurate and comprehensive care plans.
Zero-footprint diagnostic-quality clinical viewer
Utilized by referring physicians, clinicians and general users
Integrates data from any source
Completes EMR with a full imaging history
Toolset to support clinical subspecialities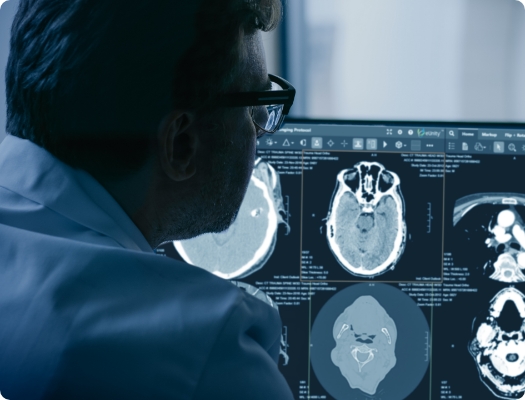 eUnity Diagnostic Viewer
eUnity gives radiologists new flexibility and freedom – the ability to read from anywhere, with the same performance of their PACS viewing environment. Quickly scale up teleradiology support to allow your radiologists to work remotely or launch new commercial reading services.
Zero-footprint diagnostic viewer
Advanced reading features and toolsets
Utilized by providers for diagnostic interpretation
Supports teleradiology and telehealth services
Inherent clinical workflow to support diagnostic confidence
Full mammography reading
Simplify Image Access
Meet your organization's need for clinical image access while simultaneously reducing technical complexity. The Mach7 eUnity Viewer provides an infrastructure and feature set that solves an organization's immediate imaging-related pain points and provides a path forward as part of an enterprise imaging journey.
Consolidates viewing solutions
Connects siloed data repositories
Improves clinician satisfaction and efficiency
Provides a vendor independent viewing platform
Displays patient's complete imaging history
Supports diagnostic confidence
Robust interoperability to EMRs and external systems
eUnity is one platform to connect, view, and diagnose
Vendor-neutral foundation
Minimal hardware requirements
Hybrid streaming approach for unmatched image viewing and navigation performance regardless of study type
Highly scalable virtual environment
Zero-footprint diagnostic-quality clinical viewing
Universal Viewing of DICOM and non-DICOM media
Super intuitive admin tools
Support for breast tomosynthesis, echocardiograms, ECG waveforms & more
Image access from all data sources
Fast, reliable performance
Advanced hanging protocols
Full support for multiple monitors
Matches your PACS reading environment throughout the enterprise
Fast, reliable performance